Inspired by some amazing sports things I've seen in places most sports fans either don't or won't look.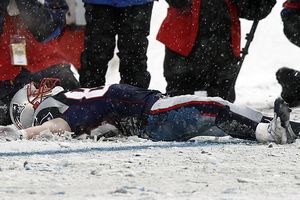 The only photo I could find in 1 minutes of searching for the $10,000 Snow Angel. Take it from me ESPN and I'll go find another.
Send
this
exact cake to any and every Longhorn fan.
Casey at the Bat
, told through the use of Baseball Cards. Awesome. Photoshop can be used for good kids!
I'm a homer so
this
top 20
list
gets linked here. I'm not even going to argue over the order. The guy included Andre Tippet and Bill Buckner, two towering figures from my childhood. Go read my post about
Buckner
, not a shameless plug, but because I actually think it is worth reading.
Faaaaaaaaaaaaaaaaaaaaaaaaaaaaaaaaaaaaaaaaaaaaaaaaaaaaaaaaaaaaaaaaaaaaaail!
Some English last names came by as a result of people being labelled by the jobs they did. In the 21st century some people are going back to their
roots
and letting their names speak for themselves.
In
Basketball
a Big Man Dance-off is a fun time for all. Not at all like the point and laugh NFL version.
The Onion
gives suggestions on how to save the Lions. They also have a wonderful
poor Eli
story.
Only two links per site, that's the rule. So I'll pass over Inflatable Ben Wallace, a football player accidentally punching his coach, and a 720 slam dunk for........
Quidditch!
Spot the geek.
The Pats need that
Van Pelt
karma to help them make the playoffs!
I did not get the
Extreme Ironing
calendar I wanted for Xmas this year. I hate you Santa.
Inappropriate Robot.
Larry Walker
and
Darren Daulton. Oh my the 90's truly was a scary time.
A very
belated
link to what Seattle sports fans have to be thankful for.
See you in a Capital One Bowl Week. (A length of time that stretches for as long as is conveniently necessary.)